About Us
Healing Hearts Mobile Animal Rehabilitation Services Inc. is dedicated to helping improve mobility, pain management, and performance in dogs and cats.
We service veterinary clinics, hospitals, animal shelters, rescues, and direct-to-patient across all areas of Southern Ontario, the GTA, and beyond. Our mobile clinic offers massage, laser therapy, ultrasound therapy, acupressure, electrical stimulation, magnetic therapy, thermal therapy, cryotherapy, and more – helping your pets gain greater flexibility and ongoing comfort and improving their quality of life.
Wondering If Rehab Is Right For Your Pet?
Don't worry! The staff at Healing Hearts are here to help and provide you & your pet options in a customized treatment program. Physical rehab is not just after surgery, injury, or neurological issue presence. It is so much more. The list of possibilities is endless from weight loss to confidence building, socialization, having a TLC/spa day, and of course fun. Contact us today with any questions.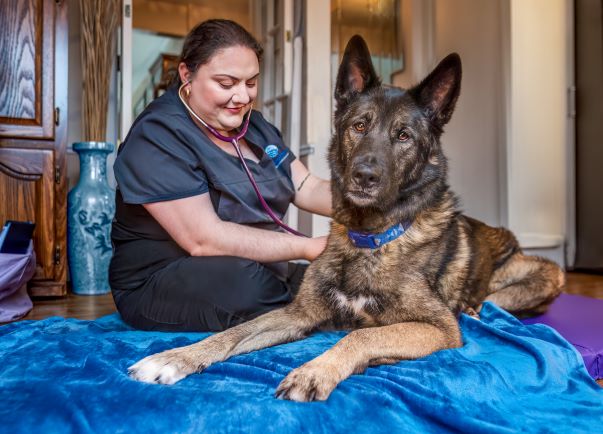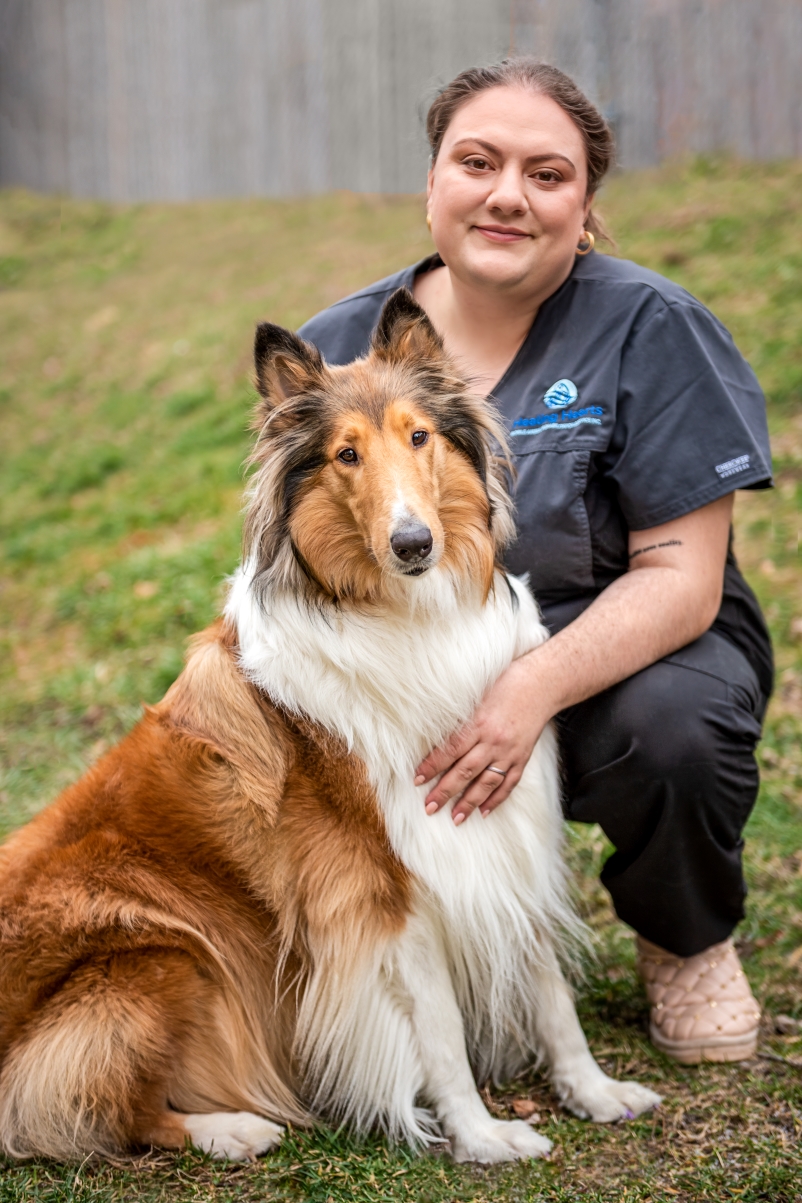 Meet Gabrielle Jansen
Gabby Jansen, Healing Hearts founder, is a Registered Veterinary Technician and certified Companion Animal Physical Rehabilitation professional. Growing up on a farm, Gabby has always had the desire to work in the animal medical field – becoming infatuated with witnessing the art of veterinary practice in action. With over 10 years in the industry, Gabby started her career volunteering in animal clinics, rescues, and farms, followed by working as a veterinary receptionist, veterinary assistant, and veterinary technician and then as an RVT within the small animal, large animal, and exotic animal medicine fields.
After 6+ years working in the animal medical field, Gabby was introduced to the animal rehabilitation world, and loved how her passion for customer service could be paired with her love of helping animals – and by starting her own rehabilitation business, she'd be able to provide these important services with an ode to her own personal values.
Gabby's love for animals is her biggest driver. She has four cats and one dog of her own. Her cats, Bruce, Talia and Kia are all rescued domestic shorthairs, and Smokey is a grey tabby going on 20 years of age. Her dog, Athena of Blue Harvest, is a pure-bred rough collie.
We Love Our Fur-Friends
We respect and value all of our patients and partners.
Judgement-Free Zone
Safe Space for All
2SLGBTQI+ Community Inclusive
Native/Aboriginal Land Acknowledgement
Supporting Military Veterans and Front Line Workers
Supporting Small Businesses
Our Values
Healing Hearts cares about both our fur-friends, and the community.
In addition to the highest level of patient treatment and respect, we are also an inclusive safe-space and judgment-free zone for our clients, staff and partners, paying proper living wages based on experience and credentials. We work within our client's budget – and offer discounted treatments to clients on income assistance programs, as well as for rescue groups and animal shelters.
We are proud supporters of small and local businesses and are always looking for ways to partner with other businesses.
Our Service Range
Healing Hearts currently services all of Southern Ontario, Canada, and the GTA with two home bases, one in Waterloo, ON, and one in Bolton, ON. All locations within the borders of the map are included in the appointment fee cost. Anything outside of the borders (contained within Ontario, Canada), we will still service at a per km fee, once we exit those borders. As Healing Hearts grows our service ranges will grow as well! Sign up for our email list for news on the latest updates.
Ongoing Partnership Opportunities
Do you work with or own a:
Veterinary Clinic/Hospital?
Shelter?
Rescue?
Foster Program?
Pet Grooming/Training Business?
We want to partner with you! Discounts, promotions, special events, and passive income opportunities are available for our partners. Click the contact us tab to get started today.
Ongoing Financial Assistance
Are you a pet owner on income assistance? Do you own or work with a low-cost veterinary clinic/hospital? Healing Hearts believes every pet owner regardless of their financial situation, deserves to give their pets the best quality of care. We offer select discounted plans and partnerships for you! Contact us today for more info.
*Note*: Pet owners on income assistance must provide verification of ongoing assistance via email with their documentation monthly.
Ongoing Discount Plans
Healing Hearts believes in supporting our community and the people that help care for us and our pets each and every day. Therefore, we provide discount plans to members of and pets a part of:
Guide Dogs/Service Animals

Patients must be task-trained service animals providing their owners with a medical or essential support service. Even though we love all animals that help us through these trying times, this does not apply to emotional support service animals.

Pets Owned By Seniors
Pets of Active Front Line Workers
Police/Military Working and Retired Animals
Pets of Veterinary Professionals and Clinic Staff
Pets of Active Military and Veterans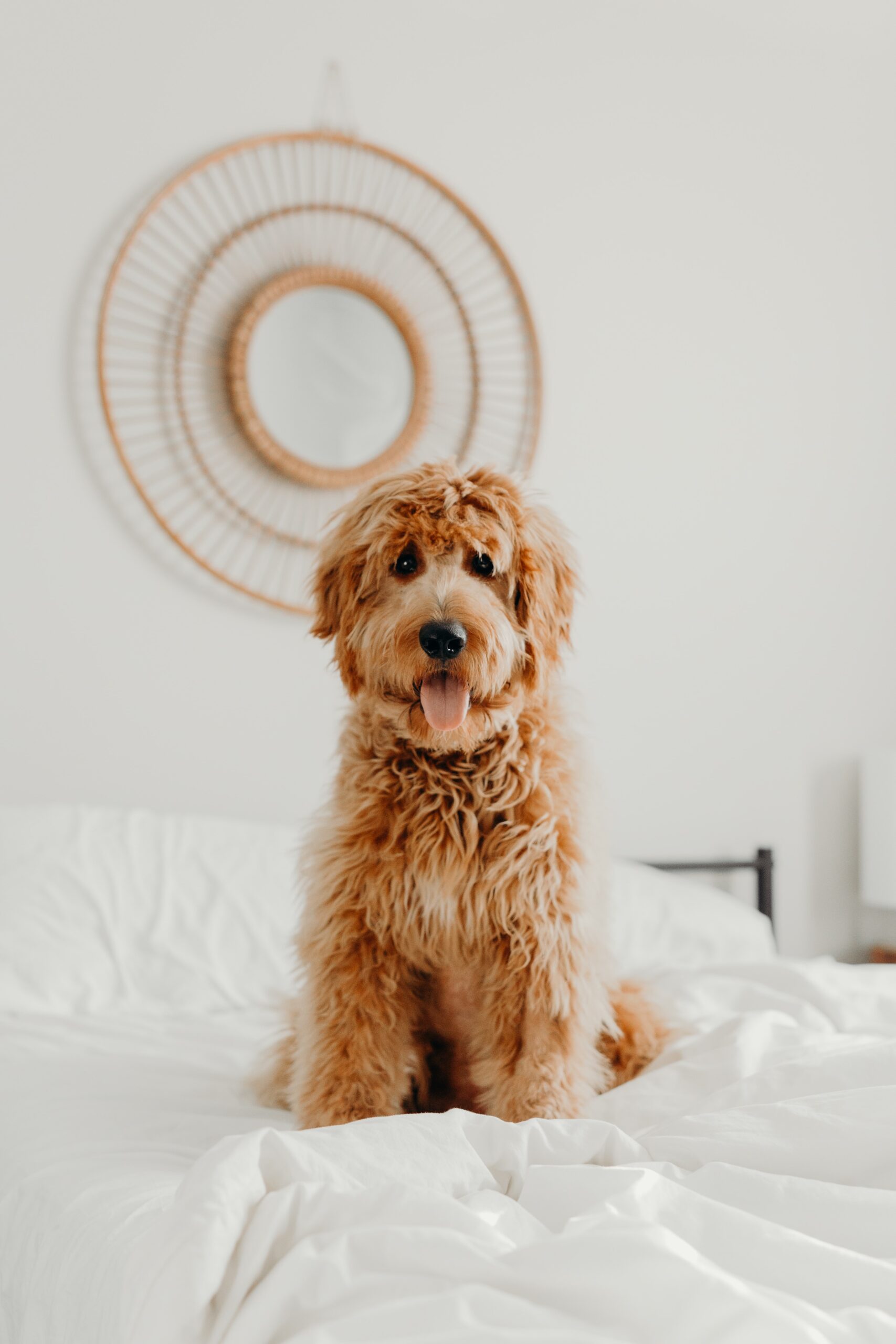 Pets are humanizing. They remind us we have an obligation and responsibility to preserve and nurture and care for all life.
Pets are humanizing. They remind us we have an obligation and responsibility to preserve and nurture and care for all life.
Pets understand humans better than humans do.